NIABRAZE offers you the highest quality diamond band saw blade on the market today at an affordable price.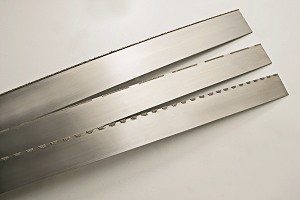 Whether you are cutting through quartz, glass, carbon, silicon, ceramics or composites, let our specially formulated steel backing lend both beam strength and flexibiity to your saw bands. Bands are cut and welded to customer specification with our guarantee of a weld to last the life of the blade.
While using high quality diamond grit electroplated to the edge, NIABRAZE provides a band that can offer precise cutting, minimal material loss and a reduction in band replacement costs due to superior band life. Bands are available for use on all standard and vertical contour band saws. Generally speaking, shipment of our bands is the same day as reciept of an order. Please click here to order a diamond band saw blade now.
New to the NIABRAZE offering of diamond band saw blades is our scallop segment bands. The scallop, which is a half circle segment, provides a cleaner entry and exit from the material workpiece. Currently, this type of segment is only available in diamond grits of 60/80 on finer.
NIABRAZE Diamond Band Saw Sizes
Width
Thickness
Continuous
Segmented
Lengths Available
Grits Available
Coarse/Medium/Fine
In-Stock
0.50"
0.020"
X
X
5' - 30'
C/M/F
X
0.75"
0.020"
X
X
5' - 30'
C/M/F
X
1.00"
0.020"
X
X
8' - 30'
C/M/F
X
1.00"
0.035"
X
X
8' - 30'
C/M/F
X
1.25"
0.040"
X
X
8' - 30'
C
X
1.50"
0.040"
X
X
8' - 30'
C
X
2.00"
0.040"
X
X
8' - 30'
C
X
*Band saw blades may be ordered at any 1/4" increment. Lengths have a tolerance of +/- 1/2"
*Stock Items will ship within 3 business days.
If you are interested in a diamond band saw blade that has a different size or grit from what is available here, then please click here to request a quote.